Women's fertility is a growing issue, and there is a lot of misinformation about the availability of effective options and solutions.
Are you over 40 and wish to become pregnant? Or perhaps you have suffered with repeated miscarriages.
If you'd like a positive boost on our fertility journey and you're concerned that you've missed your chance to conceive, then listen to these inspiring experts on how to increase your fertility and improve egg quality.
The online event is called "Your Empowered Path to Parenthood". You'll get many answers from fertility experts who have done training in holistic, functional, integrative, biomedical, and energetic healing.
It's time to take your power back on your fertility journey! Sign up for FREE here:
https://www.fertilemindset.com/annikarockwell/empowered
---
In addition, here are some valuable resources for those of you who realize that your conventionally trained doctor is not able to truly help you get at the root cause of your trouble conceiving or having miscarriages.
1) Here's a Lab Test to check for common things that drastically impact fertility and ability to carry baby to term:
See if you can find a doctor who is willing to check all these markers for you. "Functional Doctors" are highly trained at deciding which lab tests and customizing a nutrition/supplement/lifestyle program for you to remove the road blocks causing infertility and/or miscarriages.
If you'd like to try things on your own before you go see a Functional or Holistic practitioner, here are some suggestions:
2) Check if you have the MTHFR gene mutation
The MTHFR gene mutation is very significant issue for preventing miscarriages, fertility and preventing birth defects.  It's been all the buzz at conference for the last few years. Very few conventional doctors are checking for it and it can make ALL the difference. The test costs between $60 and $200. I personally have 2 copies of this gene mutation and so do 10% of all people. It can cause repeated miscarriages and/or trouble conceiving, especially after a woman reaches a certain age. Yet, if you are on the correct supplements for MTHFR and the right nutrition program, you will have no problems!
Those who are homozygous for this this gene mutation (2 copies), can follow a very specific 
nutrition/supplement/lifestyle program
to help compensate for the mutation. Most importantly, you cannot take ANY folic acid in supplements or foods! Folic acid is synthetic folate, and it's poison for those who have MTHFR genes and causes miscarriages or failure to get pregnant. Only take natural folate (such as 5-MTHF by Thorne) and eat no fortified foods which contain "folic acid".
How MTHFR gene mutation affects fertility and pregnancy

Testing MTHFR on your own:
Call Spectracell Labs or ALCAT labs (linked below) and find a practitioner near you who offers their tests. They are apx $140-$200. Annika Rockwell can also order these tests for you if you live in the US (see "Lab Testing" menu).
Books:
These books outline some of the fertility diets and why they are so important to do for 12 months pre-conception.

Naturally Knocked Up

The Better Baby Book by Dr. Asprey
Beautiful Babies - Nutrition for Fertility

Online Courses
Nourishing Hope: Nutrition for Pregnancy Online Course by Julie Matthews, CNC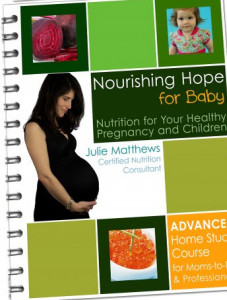 Julie is an author, international speaker, and recognized as an expert in the field of special diets for treating kids' behavior and health concerns. She is also an expert in pregnancy nutrition and has helped parents "stack the deck" against autism pre-pregnancy. You can check out her research and download a free copy of her talk "7 Nutrition Secrets Your OB Won't Tell You That Will Affect Your Pregnancy and Baby":  
https://nourishinghope.infusionsoft.com/go/nfp/N4C