Grassland Beef, also known as US Wellness Meats has beyond organic quality 100% grass-fed and grass-finished beef. It's the highest quality you can get! This means the animals have a great life –  they graze on pesticide-free grass and get sunshine and fresh air, and they are not given hormones.
Many of my clients are surprised to learn that red meat is a very HEALTHY food for their family, and incredibly nutrient dense IF it's from grass-fed and organic or wild game which contains GOOD Omega-3 FATS. I highly recommend meat from healthy animals who are free to roam outdoors, eat grass, and get natural sunshine as this completely determines the quality of the food you are eating. The meat is not only tastier, but much richer in vitamins and healthy fats!
Some of our favorites: Chicken livers, Keto ground beef, and the best beef franks we've ever had! (Their "beef franks" are essentially healthy hot dogs and they taste amazing – kids devour them!). If you're into the benefits of Real Bone Broth, they've got some good stuff! (also check out their "Chicken Gelatin" and "Beef Gelatin").
I highly recommend meat from healthy animals who are free to roam outdoors, eat grass, and get natural sunshine. The meat is not only tastier, but much richer in vitamins and healthy fats! Learn more and order healthy beef.
LEARNING RESOURCE
Check out this site to learn about the benefits of 100% grass-fed vs grain fed beef:
https://paleoleap.com/importance-of-grass-fed-meat/
Vital Choice is my favorite website to buy seafood! I know the owner Randy personally and have been buying from his company for about 17 years now. This seafood is as "clean" as you get get it – fish ecologically harvested in the deep Alaskan waters, it's free of dioxins and antibiotics, and rich in Omega-3s. Each piece of fish comes in a small vacuum sealed bags on dry ice. Each batch is tested for contaminants. To prepare, just thaw in cold water 15 minutes and bake or grill for 10 minutes! Learn more and order grea

t seafood. And while you're shopping at Vital Choice, get a couple packs of their organic berries. They are THE BEST frozen berries I have every tried, and incredible when mixed into your smoothies. Their varieties include organic blueberries, raspberries, strawberries, and blackberries. They are flash frozen and shipped to your door on dry ice. Learn more about their berries under the "Organic Food & Seasoning" menu.
If you live in Miami Dade or Broward county Florida, here are some resources. For organic produce, you can buy in stores, join a CSA, or join a Buying Club.
IN STORES
Whole Foods and Publix both carry organic fruits and vegges. The selection at Publix has grown enormously over the last couple years, and they often times have even fresher looking produce than Whole Foods.  Both of these grocery chains offer delivery services. Have your Whole Foods groceries delivered using
InstaCart
. Or have your Publix order delivered if you don't mind getting a variety box. Here are some ideas to look into. They end up being fresher and better quality produce for less $ than Whole Foods. It's somewhat customizable. See if any of these works for you. I used
Annie's
Buying
Club
for many years.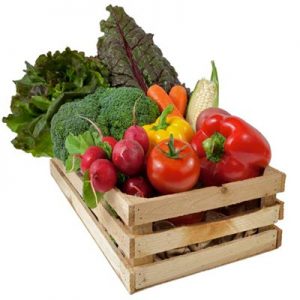 PRODUCE BUYING CLUBS
Annie's Buying Club is one of the best known and longest standing produce clubs with tons of pickup locations and a lot of flexibility with your food box options.
Endlessly Organic
This produce Buying Club serves Miami-Dade and Broward Counties in South Florida. You can pickup or have your box delivered.

Farm Box Direct
Delivers fresh organic produce to your door for $5.98 shipping fee. They offer 3 types of boxes with some substitutions possible.
Community Shared Agriculture (CSA)
Ft. Lauderdale Vegetables
  & Urban and Community Farming This gem of an organic farm sells their produce at Farmer's Markets twice a week. Check their website for more info. They can also help you get your own garden started!
Local Harvest
Local Harvest's website has a wonderful list of CSAs in your area (anywhere in the USA). Support one near you!  They also list Farmer's Markets and Food Clubs selling organic food.