One of the advantages of being a client of ours is getting access to these incredible laboratory tests that your conventional Pediatrician does not offer in his/her practice! We've taken seminars and training on how to use these tests to help you get to the root cause of your child's health concerns. These are generally paid for "out of pocket" and not billed to insurance (hence why they are generally not used in Pediatrician's offices). But, you'll get special client pricing when you order the labs through us.
Great Plains Labs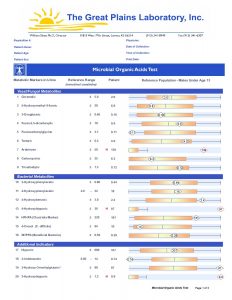 Organic Acid Test (OAT) List price $799. Pricing for FFKH Clients: $299 (results only - interpretation is additional fee) https://www.greatplainslaboratory.com/organic-acids-test/
Micronutrients and Vitamin Analysis
by Vibrant America Labs
List Price $499   Client Price: $360
https://www.vibrant-america.com/micronutrient/
Description: This blood test is one of our very favorites to help us customize a supplement plan for your child. In just one blood draw, you'll find out about status of 14 vitamins, 7 minerals, 3 amino acids, 4 antioxidants, 5 metabolites, 2 electrolytes, 1 omega-3 fatty acid, and 4 intracellular red blood cell vitamins and minerals! No guessing needed on which supplements your child needs to take. Invaluable information!
Wheat Zoomer by Vibrant Wellness Labs
List Price $399    Client Price: $260
https://www.vibrant-wellness.com/wheat-zoomer/
Description: The most comprehensive and accurate lab test for gluten sensitivity. It does not just check for one gluten marker (as done by most other labs), but it checks ALL markers which signal that gluten is a problem in your diet. This includes all deamidated gliadins, alpha, alpha-beta, gamma and omega gliadin, HMW and LMW glutenin family, Zonulin protein and actin, tTG-DGP Fusion Peptides, Wheat germ agglutinin (WGA), differential transglutaminase (2, 3 and 6), Non-gluten wheat proteins (Farinins, Globulins, Serpins, Amylase/Protease inhibitors, and total IgA and IgG
Intestinal Permeability Panel (Leaky Gut) by Vibrant Wellness Labs
List Price: $299   Client Price: $210
https://www.vibrant-wellness.com/wheat-zoomer/
Description: The most accurate way to test for Leaky Gut. This test includes: Lipopolysaccharide IgG/IgM/IgA, Zonulin, Anti-Actin IgG/IgA, and Anti-Zonulin IgG/IgA.
Mycotoxins Test  FFKH Client Price $299
https://www.greatplainslaboratory.com/gplmycotox
Description: GPL-MycoTOX screens for seven different mycotoxins (Aflatoxin M1 (AFM1), Ochratoxin A (OTA), Sterigmatocystin (STG), Roridin E, Verrucarin A, Enniatin B1, Zearalenone (ZEA)), from four species of mold (Aspergillus, Penicillum, Stachybotrys, Fusarium) using one urine sample.
GPL-TOX Environmental Toxins (non-metal)
List price $219. FFKH Client price $169
https://www.greatplainslaboratory.com/gpl-tox
Purchased as an "add-on" with the Organic Acid Test (OAT)
Glyphosate test
List price $99. FFKH Client Price $59 as "add-on" to Organic Acid Test (OAT)
https://www.greatplainslaboratory.com/glyphosate-test/
Gluten & Casein Peptides Test by Great Plains Labs
Client Price: $85  (as add-on with Organic Acid Test OAT)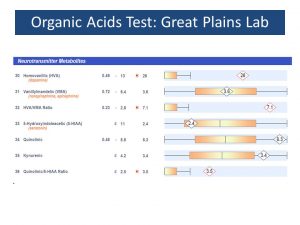 Description: Does your child seem "addicted" to gluten or dairy products? This test will show you if an intolerance/sensitivity to either gluten or casein/dairy are causing opiates to be formed in your child's body and brain. If so, they will negatively affect brain and gut function. The opiates created can cause drastic mood changes because they peak and then drop, and the "withdrawals" can cause irritability and aggression.
Comprehensive Stool Analysis (2 day sample)
List Price $459  Client Price: $355
https://www.greatplainslaboratory.com/comprehensive-stool-analysis
Description: Digestive problems and inadequate nutrient absorption cause many chronic health problems. This test checks for pathogenic microorganisms such as parasites, bacteria, and yeast overgrowth. It also evaluates beneficial bacteria levels, intestinal immune function, overall intestinal health, and inflammation markers.